WHEN THE MISSISSIPPI FLOWED
IN INDIANA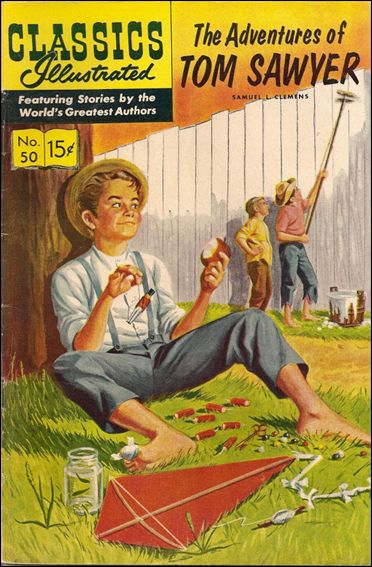 by Vachel Lindsay
Albie's note: Vachel Lindsay [1879-1931] was a great and undervalued American poet whose raucous, almost musical verse is totally unique in American letters. A mystical and dreamy fellow who died a suicide in 1931, Lindsay enjoyed great fame in his lifetime but is all but forgotten today. I love this poem about childhood and books, which first appeared in
The Red Cross Magazine
in 1919 under the title "The Cave Of Becky Thatcher." I especially like the phrase "the soul's deep Mississippi."
Hope you enjoy it, too.
"WHEN THE MISSISSIPPI FLOWED IN INDIANA"

Inscribed to Bruce Campbell, who read Tom Sawyer with me in the old home
Beneath Time's roaring cannon
Many walls fall down.
But though the guns break every stone,
Level every town: —
Within our Grandma's old front hall
Some wonders flourish yet: —
The Pavement of Verona,
Where stands young Juliet,
The roof of Blue-beard's palace,
And Kublai Khan's wild ground,
The cave of young Aladdin,
Where the jewel-flowers were found,
And the garden of old Sparta
Where little Helen played,
The grotto of Miranda
That Prospero arrayed,
And the cave, by the Mississippi,
Where Becky Thatcher strayed.
On that Indiana stairway
Gleams Cinderella's shoe.
Upon that mighty mountainside
Walks Snow-white in the dew.
Upon that grassy hillside
Trips shining Nicolette: —
That stairway of remembrance
Time's cannon will not get —
That chattering slope of glory
Our little cousins made,
That hill by the Mississippi
Where Becky Thatcher strayed.
Spring beauties on that cliff side,
Love in the air,
While the soul's deep Mississippi
Sweeps on, forever fair.
And he who enters in the cave,
Nothing shall make afraid,
The cave by the Mississippi
Where Tom and Becky strayed.