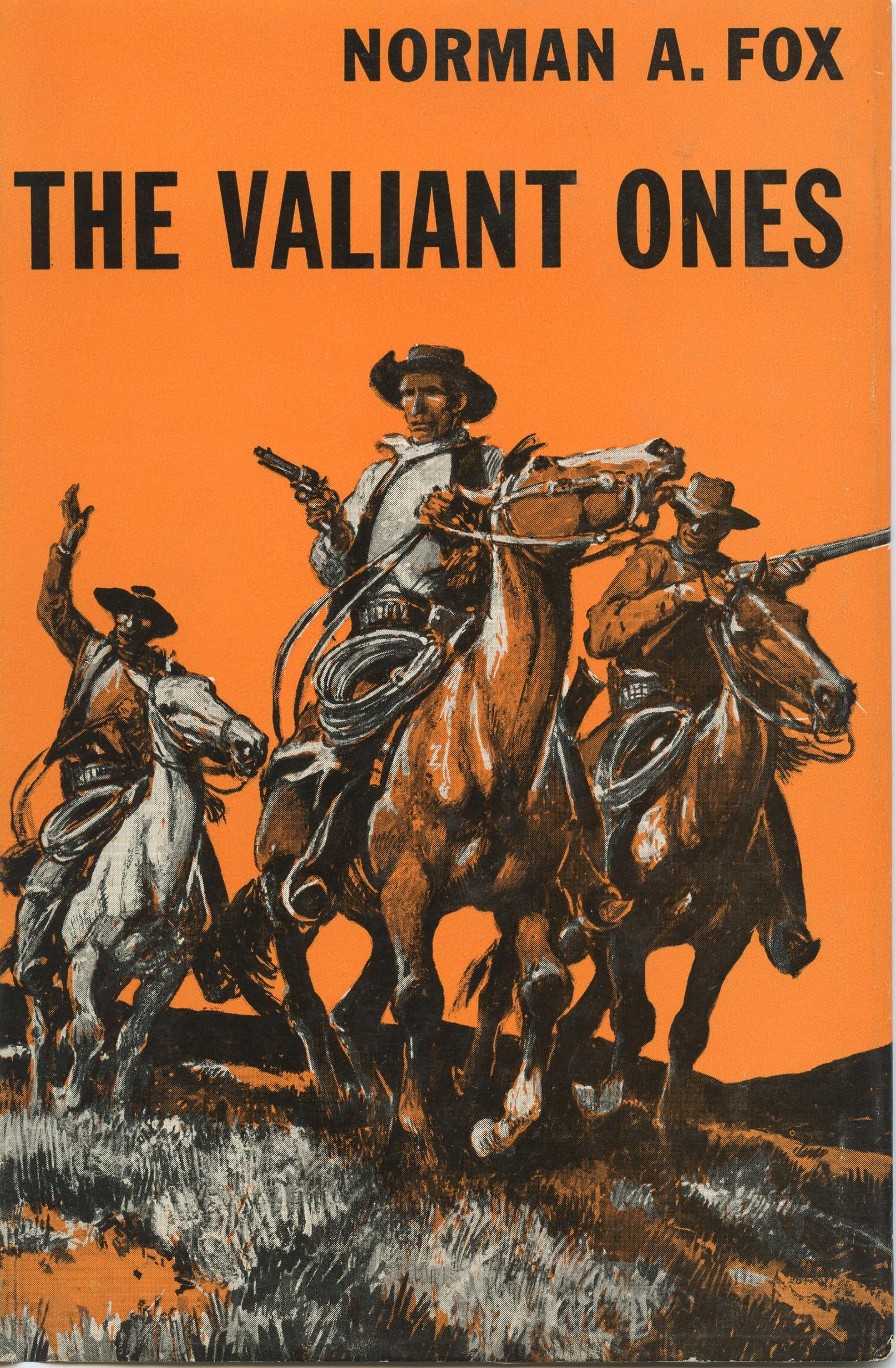 BOOK REVIEW:
"The Valiant Ones" by Norman A. Fox
A collection of eleven classic pulp-era western stories dealing with the courageous men and women-- including explorers, soldiers, and settlers-- who opened the American West...
"The cowards never started and the week died on the road,
 And all across the continent the endless campfires glowed.
 We´d taken land and settled-but a traveler passed by-
 And we´re going West tomorrow-Lordy, never ask us why!"
From WESTERN WAGONS by Stephen Vincent Benet 
The above quote stands in the flyleaf of Norman A. Fox's 1957 collection ONLY THE VALIANT. Its words form a fitting introduction to this collection of Fox's best magazine western fiction from 1946 to 1951.
Assembled by the author himself a scant 2 years before his untimely death at age 48, this is one of the better single author collections of western fiction I have ever encountered [and I rather avidly collect western short story collections.]

What makes any short story collection great is first and foremost variety. In fact, this one thing is what keeps most western story collections sadly separated from a cohesive overall quality.

This collection, however, is just about perfect in assembling stories devoted to conveying different aspects of the frontier experience. "Saddlebag Sawbones" tells of a range-land physician standing off a group of outlaws; "The Fitness Of Sean O'Fallon" tells of an unlikely hero of the original Pony Express; "Homesteader's Wife" realistically depicts the bleakness, sorrows, and occasional joys of a small time rancher's better half; and "Only The Dead Ride Proudly" is a much-anthologized tale set against the real-life backdrop of the river steamboat that carried the wounded from Custer's last stand to Fort Abraham Lincoln in record time.

I really like Fox's writing, by the way. He may not be a prose master along the lines of all-time western greats like Ernest Haycox, Dorothy Johnson or Verne Athanas, but his ability to write descriptions of setting and landscape, as well as his rendering of action scenes, is easily as competent as his pulp-era contemporaries Luke Short and Peter Dawson [and yes, that's a pretty substantial compliment coming from me.]

Beyond the writing itself, there is much to be said in favor of Fox's compelling story-telling, which is filled with realistic situations and well-drawn characters. A really nice character study is "Old Man Owlhoot," a "modern" western story about a reporters's search for the truth about a Montana old-timer who claims he rode with Kid Curry in the wild days of the northwest. It is an unusually heart-felt story succeeds in suggesting the inherent dignity that can be found in even the simplest characters that populate our world.

So all in all I highly recommend THE VALIANT ONES. If you like western short stories, It is an entertaining collection of tales that is well worth finding and checking out.


PEACE